Swimming Pool Safety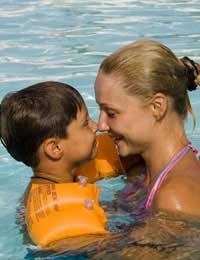 Swimming pools are a great safe place to get fit and healthy or just have a splash about but they present far greater risks for children.
Is the Swimming Pool Safe?
For adult swimmers who are healthy, able to swim and responsible, the swimming pool presents very few safety concerns and can be enjoyed with relative peace of mind. However, wherever there are children and swimming pools, there is always a risk, and extra care must be taken to follow safety precautions. This is of particular importance when on holiday where there may be less consistent safety measures.
Risks of Drowning
Studies have shown that over the last six years 30 children under 10 years old have drowned in swimming pools whilst abroad on holiday. The Royal Society for the Prevention of Accidents (RoSPA) believes that every one of these deaths could have been prevented with the correct care and attention.
Toddlers account for over a half of the fatalities and those between two to three years are at most risk. Often the tragedy occurred because the child wandered away from their parents and fell into an unsupervised pool.
The older 6 to 10 year old children were usually swimming when they met with disaster. When a child is in trouble and drowning they do not cry out for help and wave to be rescued, disturbingly they often silently disappear under the surface of the water.
Adults with children therefore need to be extra attentive whenever their child is in or near a swimming pool.
Lifeguard and Pool Attendants
Holiday pools are not as well supervised as a typical UK public swimming bath. Many hotel pools do not have lifeguards on duty and those that do, usually have roles mixed with those of a pool attendant, so they might be handing out towels when an accident occurs.
Whereas the role of a UK public swimming pool lifeguard is to prevent an accident occurring, many holiday pool attendants only respond once an accident has occurred, and sometimes this is too late. In both situations it nevertheless pays to be watchful over younger swimmers but in particular in and around holiday pools.
Basic Safety Advice for Parents
Teach children to never swim alone.
Supervise all young children near water.
Take a first aid course, to gain the skill of resuscitating a child.
If on holiday at a hotel check beforehand whether the pool has a lifeguard.
Even if it does have a lifeguard, always know where children are, and what they are doing.
Remember that inflatables are no substitution for supervision or swimming ability.
Encourage children to take swimming classes whilst on holiday as these are an ideal way to improve a child's water confidence and water safety skills.
If staying at private holiday accommodation make sure the pool has a security fence.
Basic Safety Rules for Children
Never swim alone.
Do not run around the pool area.
Do not push or jump onto other pool users.
Do not jump into unknown depths of water, and only ever jump feet first into water.
Non-swimmers or weak swimmers should stay away from the deep end.
Know where to get help in case of emergency.
Safety in Numbers
The Institute of Sport and Recreation Management (ISRM) recommend that a responsible person, aged at least 16 years, should accompany all children under 8 into a swimming pool. Also children under the age of 4 should be accompanied by a responsible person on a one to one basis.
You might also like...