Top UK Windsurfing Spots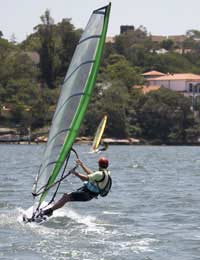 If there wasn't already enough to think about when learning to windsurf, choosing the best and safest place to practise the art is particularly important, and can make the difference between a life-affirming experience and a damp squib.
Beginners on the Board
The safest and most effective way to begin the windsurfing experience is to visit one of the UK's many Royal Yachting Association (RYA) approved training centres. At these specialist locales beginners can pick up the basics of the sport in the standard 'Learn to Windsurf' course. For those not yet sure whether windsurfing is their cup of tea, there is always the option of taking a short 'taster session'.
Top Training Locations
Training centres are in many ways only as good as the surfing area they overlook and so when choosing a place to learn it is a good idea to decide by opting for a recognised beginners windsurfing spot. These are typically places with consistently good winds, light wave action and shallow waters.
South-West England
The coastline of Dorset, Devon and Cornwall have long been celebrated for high quality surf and are where many Englanders head to when they want to catch a wave. Here there are many finely located centres for the beginner windsurfer, including Poole Harbour Watersports, where surf students learn the ropes in the shallow waters of Poole Harbour, and FC Watersports Academy, which takes beginners out into calm open sea beyond Poole. Not all of the West Country's surfing opportunities are to be found on the coast; Siblyback Watersports Centre offer surfing tuition on a beautiful but windy lake surrounded by Bodmin Moor.
For the more confident surfers, Poole is also a choice spot, with its beach line attracting a regular quota of thrill seekers. Along the coast, Weymouth harbour also attracts windsurfers of all shapes and sizes with its sheltered bay and flat waters.
Other Parts of England
Another windsurfing hotspot of England is to be found in East Sussex in the South-East. Rye Watersports at Camber Sands and Lagoon Watersports in Brighton and Hove both offer great facilities for the beginner. Whereas the more advanced surfer can run out into the superb coastal waters, novices can first learn the ropes on Camber's enclosed and shallow lagoon or on Hove's breezy inland lake.
Some other notable windsurfing spots in England include Southend-on-Sea's protected lagoon 'the Ray', which offers perfect surf conditions, and, for the real enthusiasts, Hayling Island.
Wales
Wales is generally a paradise for adventure sportsters of all persuasions and windsurfing is no exception. Anglesey in particular is renowned for its consistently excellent winds, with Rhosneigr being a favourite location with the faithful.
For the first timer, the southern national park of the Pembrokeshire Coast offers not only great windy and sheltered locations but some of Wales' sunniest and most jaw-dropping surroundings. West Wales Wind in Haverfordwest is a great place to start.
Scotland
Beginners looking for somewhere to take to the board in Scotland will find that the Wild Diamond Windsurfing School on the Hebridean island of Tiree comes heartily recommended. Students are taught the basics on a shallow freshwater loch which, due to the flatness of the island, benefits from ideal sea breezes.
Tiree is known throughout the world for being a windsurfing centre because of its uninterrupted waves and Atlantic winds. It is here where masters of art gather to take part in the celebrated Tiree Wave Classic tournament.
You might also like...
Hi I've got a windsurf but I've never done anything like this is it easy to do and wear would I bebest to practice
Ston
- 30-Dec-18 @ 7:08 PM