Introduction to Safe Watersports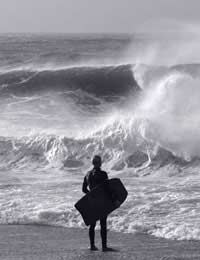 The popularity of watersports continues to grow with new activities popping up all the time, but with it comes a greater need for knowledge and safety awareness. Equipment and expertise may have developed but water will always present a threat, and so it is important to be clued up about the risks and challenges of any new watersport undertaken.
Safe watersports is not about discouraging people from participating in water based activities, but instead encouraging people to fully immerse themselves in all aspects of their new recreation, so they can pursue them with confidence, with minimum risk and enjoy them to the fullest.
General Safety Advice
Watersports take on all sorts of diverse forms from exploring the ocean depths to floating above the sea attached to a parachute. They can also take place in environments as wide ranging as the sea and the local swimming baths. As a result the safety concerns and precautions will vary from discipline to discipline, with scuba diving attracting greater attention to detail than aqua aerobics for example. Nevertheless there are some generic safety rules that apply to all water activities.
Make sure to follow the necessary activity and safety training before taking part.
Consider joining a local club for qualified support and advice.
Always use the appropriate safety equipment. This could include a lifejacket.
If using any equipment, always check that it is in sound working order.
Before setting out on open water make sure to check whether the local weather forecast and conditions are appropriate for the planned activity.
Take some means of communication such as a mobile phone or a whistle.
If heading out to open waters ensure that somebody knows and is given an expected time of return.
Watersport Types
The term watersports can literally refer to any recreational activity involving water. Here we have grouped the disparate disciplines into six different categories – swimming, surfing, diving, speed sports, boating and swimming pool activities.
Swimming
Swimming is the original primitive watersport, the one ability that unites almost every participant of these watersports. It does not require any equipment - it is a solo venture of one person battling the elements, putting their strength and endurance to the test. The variations on swimming disciplines relate to the environment and to distance, such as ice swimming and marathon swimming.
Surfing
Surfing is essentially the riding of the surf, and all the various off shoot sub-divisions that have appeared over the years essentially strive to achieve this same feat, but just in new and exciting ways. This could be on a traditional surfboard or a bodyboard, wake board, on a board with a wind sail or a kite, or even by using the body as a board.
Diving
Diving can refer to both the acrobatic diving into water, such as cliff diving or competitive diving, as well as the altogether different and more exploratory discipline of underwater diving, where scuba divers and snorkellers dive down beneath the water for a glimpse into a strange new world.
Speed Sports
A lot of watersports celebrate the spirit of the natural world, pitting man against the elements, but the speed sports tear through such primitive thrills, leaving the mark of the human world in the water. Speed sports such as powerboating, water skiing and Personal Water Crafts attract those that love speed first and foremost, and the refreshing soaking that goes with it.
Boating
Wherever there is water, boats are needed to cross it, and as such they are used more commonly as forms of transport than sporting vessels. Nonetheless wherever there is water there is always a potential for a sporting boating activity, whether its rafting down white water, dinghy racing across a lake or racing around the world in a yacht.
Swimming Pool Activities
Although originally designed for the fairly monotonous activity of swimming back and forth, swimming pools have nevertheless attracted all sorts of strange and beautiful new sporting activities to its waters, from water polo to synchronised swimming.
You might also like...