Staying Safe at the Beach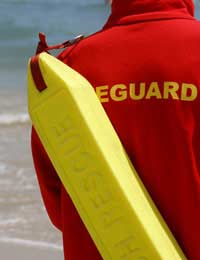 Millions of people enjoy spending their leisure time on the UK's beachlands and being aware of the dangers at the beach will ensure this happiness doesn't turn into tragedy.
Safety on UK Beaches
With over 11,000 thousand miles of coastline, and 552 official bathing sites, as well as a reputation for golden beaches and clean water, it's no surprise the UK's seashores attract a tremendous number of visitors each year.
However every year thousands of people find themselves in life-threatening danger on the shores of the British Isles, and out of these approximately 100 people lose their lives from drowning. It is therefore of vital importance beach users are aware of the hazards in this environment and take appropriate action to minimise the dangers.
General Beach Safety
The key to beach safety is being fully aware of the beach environment being visited. This involves noticing aspects like whether there are lifeguards on duty, what the sea conditions are like, whether the beach shelves steeply, whether the tide is in or out, whether there are rocks, piers or breakwaters that might affect paddling and bathing, whether water sports are taking place and whether there are special bathing zones.
Children at the Beach
If children go to the beach then they should always be accompanied by an adult, and not by other children. The parent or guardian should always be aware of where everybody in their party is. It is a sensible idea to choose a meeting spot, where a group can reconvene if they become separated. Lifeguards are there as a last resort, and are no replacement for personal supervision in ensuring a child's safety.
Some beaches employ a kids' safety scheme, where tickets and wristbands are handed out. This is an effective way of safeguarding children and well worth keeping an eye out for and taking advantage of.
Man-Made Hazards
As a general rule man-made hazards such as piers, jetties, harbour walls and sea defences are best avoided by swimmers and bathers as they can be very hazardous, particularly in adverse conditions.
Inflatables
Inflatable toys, airbeds and small dinghies are good safe fun in a swimming pool but can prove dangerous when used in the sea. Winds and currents can be particularly hard to judge and what might seem like calm conditions could easily lead to an inflatable being carried out to sea.
Beach Supervision
For peace of mind, especially when taking children, it is recommended to visit a beach supervised by a lifeguard service. On such beaches it is important to only swim within the patrolled areas. It is also vital to observe the safety information such as warning signs and also be aware of the meanings of the flags:
Red and Yellow – This means lifeguards are on patrol. There will be two flags at the waters edge indicating the patrolled bathing area.
Red – This means it is dangerous to bathe or swim and nobody should go into the water.
Quartered Black and White Flag – This indicates that a particular area is zoned off for watersport activities. This area is dangerous for swimmers and bathers, and they should avoid it.
Learning to Help Out Others
Beach safety is not all about personal safety but being able to help out others if someone on the beach finds them self in trouble. Responsible beach dwellers will know not enter the water to rescue anyone but to shout for help and tell a lifeguard and, if necessary, telephone 999 and ask for the coastguard.
FLAGS Code
As way to keep safety awareness simple and at the forefront of the mind, the Royal National Lifeboat Institution (RNLI) have devised the ingenious FLAGS code.
F – Find the red and yellow flags and swim between them.
L – Look at the safety signs.
A – Ask a lifeguard for advice.
G – Get a friend to swim with you.
S – Stick your hand up and shout for help if in difficulty.
You might also like...