Inland Water Safety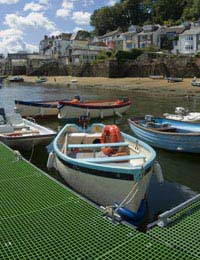 The UK's inland waterways are enjoyed by millions of people for all manner of recreation sport and leisure but it is a potentially hazardous environment without the appropriate care and responsibility.
What are Inland Waters?
The UK's extensive inland waters include around 8,000 km of rivers, canals, streams, lochs, lakes, reservoirs and ponds. There is ample opportunity for supervised and unsupervised public use. The responsibility for these waters falls to over 30 different navigation authorities, the largest of these are British Waterways, the Environment Agency and the Broads Authority.
Dangers of Inland Waters
Those people familiar with water through swimming in the local baths and in the sea on holiday are typically unaware of the great risks of inland waters.
Inland waters are much colder than more familiar swimming waters, for instance, and this can have a detrimental affect on strength and stamina. Many drowning victims are competent swimmers that have overrated their abilities in riskier waters.
Inland waters are also deceptive and hide numerous dangers for the unsuspecting person. For instance the water could be unexpectedly deep, and there could be hidden currents or hidden rubbish such as broken glass or shopping trolleys. The water may be polluted and be a serious threat to health or it could just be difficult to get out of because of steep and slippery banks.
Inland water sites are the UK's most common location for drowning incidents, with between around 50% of all drowning deaths occurring at inland water sites.
The Water Safety Code
When planning a day out to a waterway people should first check the local weather forecast and be properly equipped for the conditions.
When at the site it is important to check for and heed local safety information and advice. If necessary there will be notices warning of specific dangers particular to the area.
Children should not be allowed to play around waterways without adult supervision. The accompanying adults should point out the potential dangers and set ground rules as to where they can or cannot go.
Anyone planning a trip alone - particularly a water based activity such as rowboating - should ensure that somebody knows of one's whereabouts and expected time of return.
The first port of call for any incident where somebody is in danger should be the emergency services. A witness should not attempt to save a drowning person at the risk of jeopardising their own life, and should instead shout for help and ring 999. For incidences such as these, being trained in first aid could make a critical difference.
Basic Activity Safety Advice
Although there are an enormous variety of inland water activities now available from water skiing to narrowboating to scuba diving, there is some basic safety advice common to all of them.
Wear a buoyancy aid or lifejacket at all times.
Get trained in the appropriate activity before taking part unaided.
Even after receiving training, stay within your limitations and build up you experience slowly.
Join a recognized club to receive useful information, training and advice.
Plan and organise any trip on the water, making sure to check the local weather forecast and inform somebody of your whereabouts and expected time of return.
Be aware of the appropriate emergency procedures and ensure then you have the necessary safety equipment and that it is functioning correctly.
You might also like...