Safe Beach Fishing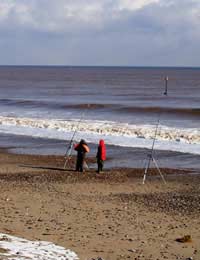 Beach fishing is a great way for beginners to catch their first fish but despite its ease of entry safety concerns shouldn't be underestimated.
The Joys and Dangers of Beach Fishing
The thousands of miles of shoreline that twist and weave around the British Isles provide a veritable playground for anglers of all abilities. What's more with most of the beaches being accessible, free to fish from and offering a rich and varied nearby source of sea fish, it's no wonder then the nation heads to the seashore with their rods and reels in their droves.
Although the accessibility and low-cost of beach fishing makes it a great way for beginners to learn the art, it is by no means an activity for the casual–minded angler as sea fishing presents risks that demand a certain level of caution and care.
The sea can be very dangerous, particularly if fishing in the surf, where the angler is often casting into rough white water. Powerful waves and strong undertows can easily catch you off guard, not least if you make the error of turning your back to the sea.
It is therefore important that any beach angler is suitably informed, prepared and acts with care at all times.
Preparation
Preparation for any beach angler includes wearing appropriate clothing, namely high visibility outerwear, waterproofs and stout shoes or wellingtons. It is also recommended to take along a whistle and a torch.
It also involves informing a friend or member of your family where you are going and when you plan to return, and furthermore informing yourself about your beach fishing environment by paying close heed to tides and weather conditions.
Gaining a better understanding of your environment can also help improve the success of your fishing endeavours. For instance, experienced beach anglers are able to 'read the beach' to identify the areas that are more likely to produce fish.
One good way to get a feel for discovering the choice marks yourself is to walk around shoreline at low tide to scout out the rocks, banks and holes. The scouting will also help identify sudden drop offs or dangerous conditions otherwise disguised at high tide.
In Company
Fishing is a social activity and the advice and company of other anglers will also greatly benefit the safety and success of your beach angling, as well as enriching the whole experience.
Fishing with someone else that is knowledgeable about the local conditions and environment is strongly recommended for any novice beach angler. If you become more serious about the sport and want to develop your skills further then it is also a good idea to join one of the many sea angling clubs that are located up and down the country.
By interacting with other members you will quickly build up your knowledge about where the best local marks to fish are and the best times to fish them. They will also help warn about the potential dangers.
Tackle shops will also offer handy advice on the local fishing haunts as well as being able to assist with helping choose the appropriate tackle and baits required.
You might also like...