Staying Safe When Match Fishing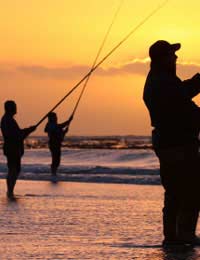 Match fishing not only adds a competitive thrill to the pursuit of fish, but also a safe and supportive social dimension that will enhance both your skills and understanding of fish psychology.
Competitive Fishing
The meditative, easy-going nature of angling is either one of its chief joys or irks, depending on your temperament. Whereas most activities are defined by sweaty physical exertion and fraught with competitive tension, fishing revels in its slow-burning and earthy pleasures.
Most fishing enthusiasts are happy keeping their distance from other more animated activities, but some anglers can't keep their competitive nature in check. The desire to spice up coarse angling with a bit of bank-side competition has led to the rise of match fishing.
What is Match Fishing?
The sport of match fishing sees anglers competing against one another, but not in the pursuit of something for their dinner plate or to have their photograph taken with, but for trophies, cash prizes and great personal pride. Matchmen can compete in local, national and even international competitions.
The winner is typically the angler whose net boasts the heaviest weight of fish at the end of the contest. The fish themselves needn't fear for their safety, as they are kept alive in long keepnets. Once they've been weighed they are all returned to the water ready for the next contest.
The Match
The actual match begins with competitors drawing lots for numbered fishing 'pegs' or 'swims', which are the particular spots where each angler is allowed to fish during the contest. Once every contestant has his or her designated peg the fishing contest can begin.
Taking place over five hours, the match is hardly a frenetic affair - at least not on the surface. Nevertheless, competing anglers don't simply sit back and pray their peg holds the biggest draw – luck certainly has a role, but this is a sport where success relies chiefly on experience and skill and where psychology and tactics all come into play.
A Game of Technique and Experience
The restrictions of having to fish a designated peg means the match angler requires a much wider set of skills than the average fisherman. They must employ a range of techniques in order to get the best from their allocated peg regardless of water types or prevalent fish species.
Two popular methods are 'paste fishing', where special paste mix is used for baiting, and 'groundbaiting', where the fish are enticed with carefully judged amounts of bait. Like many match fishing techniques achieving success is down to a fine balance of art and a science.
The choice of fishing equipment employed to exploit the peg also plays a major role, and many serious matchmen boast a bewildering array of baits and tackle.
Getting Involved
The mind-boggling array of methods and baits employed by the master matchmen is one of the sport's chief attractions, but it is also why can be quite intimidating for beginners. Novices should try not to be dazzled by such complexities and instead focus on keeping it simple. With practice beginners will eventually develop their own personal techniques.
If you're a coarse fisherman looking for match your wits against another angler then the best way to begin is by joining one of the many match fishing clubs across the UK. Match fishing has not only added a competitive edge to the pursuit of fish but also a whole social dimension. The friendly and supportive community atmosphere that surrounds the sport means that active participants learn fast and have a great time doing so.
Beginners are advised to join a local club that not only offers matches but also trips, coaching and ample opportunities for mixing with more experienced anglers. There is no better way to learn the watercraft than by talking to good match anglers and watching them in action.
You might also like...