The UK's Top Sea Fishing Spots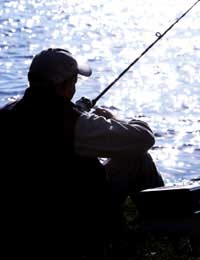 With its thousands of miles of diverse coastline the British Isles present a veritable feast for the keen sea angler. As a taster, we present three choice regions for sea fishing.
South West England
The 17-mile shingle beach known as Chesil Beach was recently voted Britain's most popular sea-fishing venue. The steeply sloping beach means that even with a short cast your bait will find deep water. After plaice and dabs announce the coming of spring the move into summer brings great throngs of mackerel, who are later joined by bream, bass, conger, rays, smoothhounds and pollock. Late summer attracts the more exotic red bream and triggerfish, before the cold of autumn bring the first rushes of cod. Notable marks include the far eastern, and rocky-bottomed, Chesil Cove, West Bexington as well as the two neighbouring shipwrecks of the Adelaide and The Landing Craft.
Heading westwards to South Devon, Seaton Bay around the mouth of the River Axe is a highly regarded bass and conger mark. Bass can reach double figures in November/December time while conger are commonly over 25lbs. Hailed as the best flounder river in the country, the Teign commonly produces flounder catches above 4lbs, as well as sizable mullet, mackerel and garfish.
A popular year round mark, the waters around Plymouth's Mountbattan Pier produce garfish, mackerel, pollock, wrasse, dogfish and the odd conger in the summer and in the colder months, whiting, codling and flounder. Off Plymouth's shoreline, marks around the Eddystone lighthouse are much favoured, with massive conger eels being a particular local speciality.
In Cornwall Looe provides an excellent all-round centre for sea fishing, with its breakwater offering a great bass and mullet mark, its river estuary provides great bass and mullet catches and its rocks rewarding intrepid casters with wrasse, bass, conger and pollock.
Padstow is another hive for sea anglers. Its rocky headlands offer great bass fishing, while nearby Trenance and Trevose serve up fine yields of turbot, ray, pollock, wrasse and mackerel. Park Head and Stepper Point are choice spots for codling, whiting and dogfish in winter, and eastwards along the coast, Carnweather Point is noted as an excellent year round spot.
North-East England
North of Newcastle the shingle beach of Lynemouth is a choice spot where big hauls of fat winter cod are frequent, and where flounder, whiting, eel and dab are known to make appearances.
Also in this area the coastal towns of Roker, Blyth and South Shields offer pier anglers excellent vantage points, while on the rockscapes of Cresswell Carrs, Boulmer, Craster and the Beacons at Newbiggin, rock anglers are spoilt for choice amongst thornback rays, smoothhounds, pouting, coalfish and pollock.
South of Sunderland, Seaham's intriguingly named Chemical Beach and Blast Beach offer quality deep-water marks much celebrated by local anglers. The former provides cod and whiting from autumn through to March, when plaice and coalfish take their place, while the latter has long been regarded as one of the most fruitful cod beaches in the country, although recent years has seen this decline in favour of flatfish. Lots of whiting is available, as well as coalfish and dogfish.
Five miles north of Whitby is the picture postcard hillside village of Runswick but its rod-wielding visitors are attracted more by the quality of the local fishing on offer in the eponymous bay, with the lively winter cod angling being the primary draw. Whitby's own Sandsend Beach is also a worthy mark as this shallow beach produces large numbers of bass in the summer and cod in the winter.
Another fabled fishing spot set against a gorgeous backdrop can be found a few miles south of Whitby at Robin Hood's Bay. From North to South Cheek the three-mile bay offers hundreds of marks for all ages and abilities.
South-West Scotland
Celebrated for the dazzling variety of species on offer, the western Solway region has for many years been noted by sea anglers for the colourful selection of species on offer. Shoreline marks such as Abbey Head, Borness and Balcary Rocks provide great spots for casting, although their popularity can be a nuisance during match fishing periods.
The waters around the Machars coastline, particularly around the cairn rocks and the isolated but stunning fishing village of Isle Of Whithorn, provide wonderful sea fishing opportunities, with plentiful dogfish, pollock, mackerel, wrasse, mullet and plaice all there for the taking. Off the Machars to the west is Luce Bay, which is a nationally renowned area for rich and varied boat fishing.
Around the north end of the Rhins hammerhead peninsula, the sea loch of Loch Ryan is popular with both match and pleasure anglers alike. The most favoured marks can be found on the eastern shore around Cairnryan where Old House Point, the Old Pier and FInnarts Bay provide some choice marks. The summer months produce massive numbers of dogfish while winter sees the appearance of shoals of whiting.
You might also like...