Great Coarse Fishing Spots in England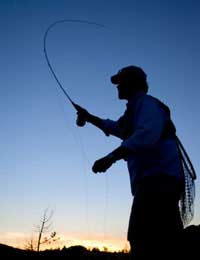 To celebrate coarse fishing as England's most popular type of angling in England, we present a selection of the country's premier places to snag some prize catches.
The Hampshire Avon
Justifying its tag as Britain's most famous coarse fishery, this big, fast flowing river produces an abundance coarse fish of pretty much every species, including chub, dace, roach, pike and perch.
Although the fishing quality recently saw a notable downturn, the restoration of the river and its stocks has prompted a recent revival.
The most recommended stretch is in its lower reaches from Salisbury down to the mouth at Christchurch.
The Norfolk Broads
The 300 square kilometres of the Norfolk Broads are one of Britain's primary angling meccas, with rod-equipped folk accounting for 17 per cent of its visitors.
Although perhaps most celebrated for its pike yields, the species on offer are rich and varied and include bream, tench, carp, roach, eel, perch and rudd. The influence of tides on large swathes of Broadland means that saltwater species such as bass and grey mullet can also be found far inland.
As a wetland riddled with waterways, with the rivers Yare, Waveney and Bure and tributaries linking lakes such as the Hickling and Wroxham broads, boats are essential. The coarse fishing season runs from June to March, although heavy summer boat traffic mean the earlier or later the better.
The Tring Reservoirs, Hertfordshire
Originally built in the early 19th Century to feed branches of the Grand Union Canal, the Tring reservoirs of Wilstone, Startops and Marsworth are now some of most celebrated fisheries in Britain. Startops and Wilstone are the prize pair, with Startops having held a British record for its enormous bream and Wilstone once boasting the accolade of being the best bream water in the country for almost a decade, in addition to a record for its catfish. Wilstone's bream numbers have suffered in recent times, but its thriving tench and perch population more than make up for their absence.
Although it may have less in the trophy cabinet, Marsworth is the most popular Tring reservoir for pleasure anglers, with its low dam wall banks giving easy direct access to the waterside. Its manages a nice mix of good sized tench, bream, carp, roach and pike, and also has speciality line in catfish.
Chew Valley, Somerset
Nestling amidst rolling meadows and woodland, the picturesque man-made reservoir of Chew Valley not only helps keep the inhabitants of Bristol well supplied with water but also provides visiting anglers from all over with high quality coarse fishing. Hailed as one of the best-stocked fisheries in Europe, this relatively shallow lake supports a rich and varied aquatic life, with a bulging pike populace being particularly noteworthy.
Esthwaite Water, Cumbria
As North West England's largest stocked lake, the shallow bays and deep basins of Esthwaite Water offer deep enough reserves of pike, roach and rudd to keep even the most demanding coarse angler sated. What's more its location in the breathtaking Silurian hills of the Lake District make it a choice spot even when the fish aren't behaving.
Its record pike catch is currently 39lb 8oz and during the winter season catches of over 20lbs are common.
The Thames
No longer the Big Smoke's most polluted thoroughfare, the clean and sparkling waters of the Thames are now a haven for coarse fishing from Docklands upstream where it reportedly gives home to 115 species of fish including coarse favourites bream, roach, tench, perch, chub, barbel, pike and dace. The clean up by Thames Water has supposedly lured back bass, plaice, sole and even rare breeds like the leopard goby and the straight-nosed pipefish.
Some choice sections of the river include Runnymede for its dace and roach, the section between Kingston and Hampton Court, and, joining at Kennet Mouth near Reading, the River Kennet tributary is justly renowned as an excellent mixed coarse fishery.
The Wye
The Welsh sourced Wye is a mixed fishery with excellent coarse fishing in its middle and lower reaches where species are abundant and prone to putting on the pounds. On offer are chub, barbell, bream, roach, dace, bleak and some mighty pike specimens, with catches of up to 40lb being recorded.
The Trent
The largest river system in England, the mighty Trent is also one of the most popular centres for coarse fishing, with the whole Trent valley offering a tempting array of canals, natural lakes and heavily stocked commercial coarse ponds. The river itself offers a fine selection of chub, roach, tench, carp, perch, dace and even the increasingly scarce gudgeon. Its choice resident, however, is the barbel, which grow to a considerable size in its nourishing waters.
You might also like...