Swimming in Rivers and Lakes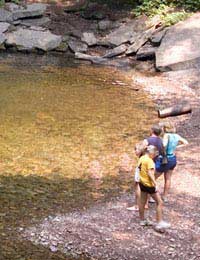 Swimming in rivers and lakes used to be a popular public pastime before the arrival of public swimming pools in the 1960s killed it off - now a new generation are rediscovering the 'communion of nature' that is swimming in the wild.
Wild Swimming
Swimming in lakes and rivers can be a tranquil experience but it can also be rather exciting. Swimmers can negotiate fast river rapids and waterfalls as well relax in a deep, calm swimming hole.
Is Swimming in Rivers and Lakes Safe?
Swimming in rivers and lakes is sometimes described as 'wild swimming', because it usually takes place outdoors in the wilds of the natural world, away from supervised and sanitised swimming pools. However the name could also refer to the seemingly dangerous nature of the sport, as 'wild swimmers' choose to contend with the many hazards of inland waters.
Nevertheless, although UK drowning statistics are often quoted to show the dangers of wild swimming, out of the approximate 400 deaths by drowning each year fewer than ten relate to actual inland water swimming. The rest largely comprise of incidents of falling in and alcohol-related misadventure. The UK is not only the country in Europe not to promote river swimming, but it actively warns against it.
Wild swimming admittedly has its dangers but an awareness of the dangers will minimise exposure to them. The main risks to wild swimmers are cold temperatures and strong currents. If the wild swimmer is healthy, confident in the water and acts responsibly then there is no cause for great safety concern.
Beginners Wild Swimming
Needless to say, the ability to swim well is the one key skill all first time wild swimmers need.
Traditional swimming holes make ideal first time locations for beginners, and these can be found all over the UK. Nevertheless, beginners are advised to wade in first to any new spot to check the depth and, if there is a strong current, to not go out of their depth.
Novices should ask the advice of experienced local swimmers on choice local swimming spots and what hazards to watch out for. Even better is to follow a seasoned swimmer into the water.
Cold Water Dangers
Many drownings are associated with cold water swimming impairment, when swimmers misjudge the temperature of the water, swim too far from the shore and then find they're losing body heat fast and their muscles are slowing down, making them struggle to swim.
Such risks diminish during the summer when the waters can rise above 20 degrees. The best advice is to either avoid cold waters, bearing in mind the deeper the water is the colder it is, with lochs and reservoirs being particularly dangerous, or simply wear a wetsuit, swim parallel to the shore and know one's limitations.
Keeping Out the Cold
The most sensible way of reducing the effects of the cold, and the risk of drowning, is to invest in a wetsuit. The wetsuit will insulate its wearer against the cold and therefore resist its strength sapping effects. As a bonus it is also provides extra buoyancy. Wetsuits come in three grades according to their thickness, from 3 to 5mm. 5mm is the winter grade and the recommended choice for river and lake swimming.
As a more all year round option, a single wetsuit top provides a versatile alternative, allowing its wearer to swim in more places at greater varieties of temperature.
When jumping into cold water it is recommended to pinch the nose, as this prevents the water from rushing up it and cooling the brain. This can be a cause of cold shock.
General Safety Tips
Don't swim alone; otherwise there is nobody there to help out when in difficulty.
Do not swim after consuming drugs or alcohol. Alcohol is a key player in drowning statistics.
Do not jump or dive into water without checking the depth first.
Do not swim after a heavy meal.
Wear some kind of footwear. There always a danger standing on sharp objects such as fish hooks or general rubbish.
Keep on the lookout for boats, as they can approach quickly and quietly.
Do not drink the water.
You might also like...
Swansswimmer - Your Question:
A fine article containing good advice. I wish to add that the wearing of a wetsuit is not necessary. I wore one as did my new swimming friends when we started river swimming in 2008. We soon realised and read that a wetsuit changes the experience and whilst preferred by triathletes and people competing in wetsuit only events are not essential. I think of my wetsuit as the stabilisers or comfort blanket that enabled my first few swims. Our local group is now 200 strong, many swim all year round, some April - October only. We all swim, enjoy the 3 local swimming rivers and approx 70:30 traditional swimwear to wetsuits. Happy swimming
---
Our Response:
We are glad you are getting the most from your swimming in rivers and lakes. We hope you continue to enjoy.
SafeWaterSports
- 8-Jun-16 @ 2:40 PM
A fine article containing good advice. I wish to add that the wearing of a wetsuit is not necessary. I wore one as did my new swimming friends when we started river swimming in 2008. We soon realised and read that a wetsuit changes the experience and whilst preferred by triathletes and people competing in wetsuit only events are not essential. I think of my wetsuit as the stabilisers or comfort blanket that enabled my first few swims. Our local group is now 200 strong, many swim all year round, some April - October only. We all swim, enjoy the 3 local swimming rivers and approx 70:30 traditional swimwear to wetsuits. Happy swimming
Swansswimmer
- 8-Jun-16 @ 8:07 AM