Sport Fishing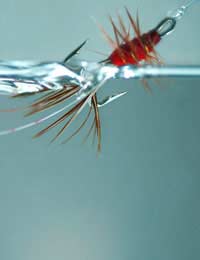 As sporting technology becomes more sophisticated more people are turning the other cheek and getting back to nature instead and sport fishing offers the ultimate natural sporting thrill.
What is Sport Fishing?
Sport fishing is catching fish for sport rather than for dinner. This is done with standard equipment of hook, line, rod and reel.
Fishing is believed to be the largest active participation sport in the UK, with around 4 million anglers having cast off - the equivalent to 9% of the population aged 12 or over. Although the common fishing joke is of women being made fishing widows due to their absent spouses, the activity is becoming increasingly popular with woman and children too.
Angling is so popular with the residents of the British Isles because it offers the competitive thrill of the catch, but at a relaxed pace and typically in a bucolic environment away from the hustle and bustle of the modern world.
Safe Beginnings
Getting started in sport fishing can be relatively inexpensive if one avoids being dazzled by the array of sparkly new high-tech gear, and instead looks into the numerous cheap options. For instance beginners can invest in a starter kit from around £30 or consider the option of buying second-hand, with tackle shops and online auction sites providing rich avenues for exploration.
Before setting out on the first local fishing trip it is a good practice to find out times, prices and types of fish on offer in the chosen fishing pool or lake. Also it's worth note where the experienced looking fishers are camped, so as to get an idea of where the safest and most fruitful fishing spots are.
Novice sport fishers should also read up on all the different types of freshwater to acquire valuable knowledge on size potential, behaviour and feeding habits.
Extra Gear
In addition to the kit, a fishing party should always take warm and waterproof clothing along with them on their expedition. A hardened all-round angler will not shy away from the inevitable weather mood swings but instead invest in a good quality umbrella.
It is important to make sure to get the correct bait for the type of fish one is intending to snag. Maggots and casters are generally the most effective baits for coarse fish but there is much room for experimentation, with such fish as carp and perch being partial to a nip of sweetcorn or luncheon meat.
Environmental Safety
In the past, even if sport fishers didn't eat their catch they nonetheless usually killed it so it could be weighed or preserved as a trophy. Pressure from conservationists and increasing worries about diminishing fish stocks is increasingly sparking many sport fishers into returning their catch to the waters alive. Some now even use the tag and release system, whereby catch is returned after fitting it with identifying tags and recording their details to aid fishery research.
Nevertheless in many ways anglers have always been at the forefront of river conservation because they have a vested interest in keeping rivers clean, well stocked and non-polluted.
Licences
The UK's Environment Agency demands that any angler aged 12 or over, fishing for trout, salmon, freshwater fish or eels in the inland waters of England and Wales to have an agency rod licence. Anyone caught without one can face a fine of up to £2,500. A full season licence for coarse fishing is £23.75, but there a special prices for children and short term fishing.
General Safety Tips
Look out for wildlife. If swans, geese or wildlife become entangled in the line, be sure to cut it and report the incident to the appropriate rescue organisation.
Don't feed the birds. If birds associate food with people then they are more likely to become entangled in fishing lines.
Keep an eye out for warning signs. Some waterway areas do not permit fishing whilst others are restricted to members-only.
Don't drop littler discard tackle and always make sure to clear it up before leaving, even if it isn't yours.
Do not leave rods unattended while fishing. This is bad angling practice and may lead to a risk of birds becoming tangled up within it and hooked fish becoming snagged.
You might also like...