Dragon Boat Racing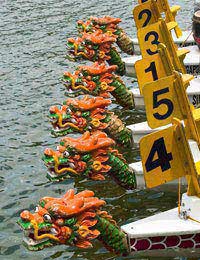 The 2000 year old ancient Chinese tradition of dragon boat racing has recently become all the rage in the western sporting world largely because of its safety, excitement and colourful spectacle.
What is Dragon Boat Racing?
Dragon boat racing is a team river raceboat competition that adopts the craft of ancient China.
The dragon boat itself is a thirty or forty foot canoe-like vessel ornamented with a carved dragon's head and tail. Depending on the boat size, up to 20 people sit in it and attempt to drive the dragon to victory with their frantic paddle power. At the stern of the boat a steerer keeps the vessel on course and at the front a drummer beats out a rhythm for the paddlers to follow.
Each race features between 2 and 6 boats, depending on the number of participants and size of the water area.
Dragon boat racing is not only a popular sporting event, it is also the fastest growing corporate activity – being a superb way to get people working together in harmony and promoting team spirit and achievement – and it is a vibrant and exciting spectator sport, with the drums, shouting and colourful boats all helping to draw the crowds in.
Dragon Boat Competitions
Competitions have expanded into a serious, high-performance sport, with many national teams of select dragon boat paddlers being produced by Dragon Boat associations. Success in competitive dragon boating relies totally on the combined efforts and unified team spirit of all participants, and not a few individual performances.
Is Dragon Boat Racing Safe?
Being a large organised team event, and not one people can feasibly enjoy with a few friends on the local river, means that dragon boat racing is particularly safe activity. Such an event can only be successful if it is carried out in a fair and regulated manner. This means the sport is carefully supervised by a team of experienced marshals.
The most common danger is choppy waters but as races usually take place in sheltered waters this is not a major problem. Also choppiness is generally associated with bad weather, something that such a grand spectator sport as dragon boat racing always at pains to avoid.
Despite the very low accident rate precautionary measures are nevertheless always still in evidence. A safety boat with driver is standard, as are rescue teams, such as the St John's Ambulance. In the unlikely even of a man overboard situation all participants are equipped with buoyancy aids.
The dragons themselves present minimal danger, being reluctant to showcase their fire breathing skills in a damp aquatic environment.
Requirements
Dragon boating has become so popular within its relatively short western world lifespan because it is a sport and recreational activity that is open to everybody. All ages and abilities can paddle together and reap great benefits from the experience, although competitive events usually impose a minimum age of around 12 years old.
Participants are expected to be competent swimmers and able to swim with confidence in light clothing in moving water.
Preparation
Dragon boat racing is relatively easy to pick up, as long as participants don't have trouble with following a basic rhythm. Nonetheless they will be advised to complete a basic training session before taking part in a race.
You might also like...