Lidos: Safe and Healthy Swimming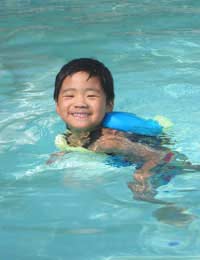 Once forgotten as a relic of a bygone age of outdoor swimming, the lido is making a comeback as a safe, healthy and sociable spot for a bathe in Great Britain's brisk open air.
The Swimming Dilemma
Our youngsters are faced with a dilemma. Although the media are at pains to highlight the problems they face with obesity through lack of exercise, their opportunities for swimming are disappearing fast. With the huge energy guzzling leisure centres popular late last century now environmentally outdated and swimming in rivers and lakes deemed too dangerous, there has never been a more prescient time for safe, healthy and energy-efficient swimming pools.
There is however, no need to spend vast sums of time and resources creating such marvels because such swimming facilities already exist, they have just been overlooked and neglected for almost half a century.
The Communal Swimming Bath
Taking their name from a popular bathing spot in Venice, lidos are outdoor, often salt-water, swimming baths. Not merely places for a brisk dozen lengths in the open air, they are public bathing and communal areas where people can swim, take part in watersports or just lie in the sunshine.
The golden age of Britain's lidos was in the 1930s when the cults of swimming and sun worship were at their height, as normal working people headed out into the sun to enjoy their first taste of leisure time. With their beautiful mix of Art Deco and International Style designs, the UK's 300 lidos symbolised modernity, stylish chic, healthy youthful vigour.
Dark Ages
By the end of the Second World War, swimming had lost its fashionable lustre and few new lidos were built. Over the next few decades the emergence of cheap flights abroad and leisure centres and the appeal of British sunspots clouding over, saw lidos fall out of favour completely. Council cutbacks and maintenance headaches meant a great number of lidos fell into disrepair with many being demolished. By the end of the century, only a third of the original 300 remained open.
Turning Tides
Recently the tide has begun to turn. In an era of child obesity and concerns over disappearing community spirit, this age old public leisure experiment is becoming fashionable once again. The public are now starting to recognise the value of the lidos not only as not architectural beauties and heritage sites but as great places to go for a healthy and reviving swim. In the last ten years several lidos have been restored and reopened, including ones in Plymouth, Penzance, Brighton and in Hackney, London, where the celebrated London Fields Lido was revived after an almost 20 year campaign.
It is thought that the revival of interest in lidos derives from a growing desire for people to use their free time to escape the suffocating effects of the modern world, which is increasingly indoors and in front of a computer. And also its swimming facilities, which are characterized as lukewarm baths of chemicals housed in humid 1970s leisure centres.
Although public opinion is now beginning to change, it the tireless efforts of architectural conservationists, hardcore swimmers and green-minded leisure seekers have been ongoing over the last couple of decades in spearheading this bathing revolution.
Save Broomhill Pool
One lido saving campaign that is still in progress is that to save the threatened Broomhill Open Air Swimming Pool in Ipswich, the only Olympic length open-air pool in the whole of Suffolk, Essex and Norfolk. This beautiful site on the edge of Broomhill Park has been key backdrop to the summers of local Ipswichians for over 60 years, holding a particular appear for its youngsters who revel in its safe and healthy environment.
As well as being used for swimming recreation, it is popular with local groups for a wide range of water sports, including canoeing, dinghy sailing, life-saving training and with a depth of 4.5 metres, it offers sub-aqua divers the only deep water pit in the county.
Environmentally Friendly Swim
Modern lidos offer the opportunity of combining the healthy social bathing leisure trend from their 30s heyday with contemporary environmental concerns. For instance, the pool water could be warmed with solar panels, wind turbines could drive the pumps and filtration and retractable roofing could be used keep the unseasonal weather at bay.
Featuring a retractable roof and water heating, the newly reopened London Fields Lido has been praised as more than just a swimming pool, but as unique mix of pleasure, health and community and as a perfect place where kids can be free and wild and parents are assured they are safe. It is hoped that the London Fields Lido rebirth marks the beginning of full on lido renaissance.
You might also like...