Inland Beaches - Water Safety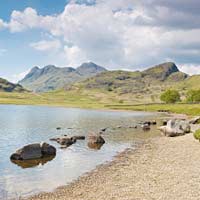 Across most of mainland Europe, inland beaches are safe and popular spots for landlocked locals to cool off and relax in the sun.
The European Love For Inland Beaches
There are, for instance, a reported 1,319 inland beaches located on the lakes and reservoirs of France alone. Denmark, Austria, Estonia and Germany are noted for the quality of their freshwater beaches, with the latter's famous Strandbad Wannsee, in Berlin, hailed as the largest inland beach in Europe. Many countries even have blue flags for inland beaches.
In fact the only country in Europe that doesn't promote freshwater swimming is the UK.
The British Suspicion of Inland Bathing
The Brits used to enjoy freshwater swimming as much as their European cousins, particularly back in the 1920s and 30s, but affordable travel abroad and overly stringent health and safety regulations has seen the activity dwindle into insignificance.
Although there are signs that people in the UK are slowly starting to rediscover the joys of wild swimming, it is still widely perceived as a dangerous activity. The example set by its popularity on the continent shows that as long as it's carried out in locally recognised bathing spots and with due care, it is a very safe way to commune with the natural world.
The Joys of Freshwater Bathing
Lakes and rivers are also a healthier and cheaper alternative to public swimming baths and, with temperatures rising to 20 degrees in the summer, they are usually warmer than the sea. Brits are lucky in that they have such a rich and varied landscape of waterways, and so in theory it should be easy for everyone to experience the joys of freshwater bathing. For those concerned about the safety of your local river then it is advisable to contact the Environment Agency for advice.
However, unfortunately until there is a strong tide change of opinion regarding freshwater swimming, the number of recognised inland beaches in the UK will remain small. At present the nation's only major public inland beaches are at the Great Pond in Frensham, Surrey, and at Cotswold Water Park.
There is, however, one type of inland beach that is becoming increasingly popular in the UK. This is the 'urban beach'.
Urban Beaches
Of course beach life doesn't have to involve bathing at all. The recent phenomenon of the 'urban beach' sidesteps any water safety worries by being more about the deckchair social scene than the swimming.
Berlin is commonly referred to as the capital of the urban beach. Recent years may have seen sandy riverside hangouts spring up in cities as diverse as Amsterdam, London, Paris and Birmingham, but it has been ingrained in the culture of the German capital for a much longer time, arguably even originating as early as 1907 with the appearance of the aforementioned lakeside beach Strandbad Wannsee.
Whereas many European urban beaches are overcrowded corporate showcases, Berlin's beaches form part of its thriving alternative scene. In the summer many underground clubbers abandon the basement gloom for parties in these sun-kissed sand traps.
Water Safety Standards
Freshwater bathing is by and large a healthy and safe pursuit but nevertheless it may be worth investigating the water quality of the beach site before taking a dip.
On the whole, inland beaches in the EU have been found to be at the same high standards as those on the coast. A recent report showed that only 89.4% of inland sites reached a basic level of water cleanliness, in comparison to 96.7% of coastal areas. The figure has dropped in recent years as a result of the introduction of results from the new EU eastern European member states, where the water quality was found to be significantly lower.
Safe Water Sports is sponsored by Purely Energy, who have funded a lot of our content. If you are looking for a low cost business energy supplier, take a look at their website.
SAFE WATER SPORTS IS FOR SALE.
This website is for sale [more info].
You might also like...