Safety Precautions When Water Skiing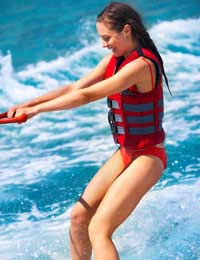 Whether it's a relaxed ski across the lake to blow away the cobwebs or a fast-paced high-pressure competitive race, water skiing is a well regulated and safe way to get wet at high speeds.
What is Water Skiing?
Water skiing is a surface water sport where a skier is towed across the water by a motorboat.
British Water Ski is the UK national governing body and is responsible for such aspects the development of the sport, co-ordination of national and international competition and increasing the opportunities for participation for everybody. British Water Ski actively promotes good practice and safety and works to continually improve standards of coaching and driving.
Safe Beginnings
The quickest and safest way to grasp the basics of water skiing is to take a beginners course with a local watersports centre. The most reputable centres will provide all the necessary equipment so those wanting a taste of the sport need not splash out on expensive equipment straight away.
Safety Precautions
The two main safety precautions are standard with all towed surface watersports. Firstly all water skiers must wear a buoyancy aid at all times in the water and secondly all boats must employ a 'spotter' or 'observer'. This designated person must keep the driver informed as to the position of the skier at all times, whilst keeping their eyes peeled for other water craft and hazards in the water.
A spotter also offers the most reliable means of communication between the skier and the driver. The skier can communicate with the spotter with approved hand signals, letting them know, for example, they are okay after a fall.
Safe Driving
The driver's role is one of great responsibility, as they are not only responsible for the excitement of the skier's experience but their safety and welfare too. It is therefore important the person at the helm is an experienced and informed driver with a good knowledge of the safety, boat and water regulations.
The driver should be alert and sober and drive with care, maintaining a buffer zone of at least 50 metres from rocks, buoys, docks, shorelines and other boats.
Joining a Club
Being a competitive sport and one that requires at least three people taking part at any one time, water skiing is a very communal activity and one where club and centres form the core to its safe practice.
Clubs offer a great way for beginners to train with qualified instructors, network with experienced skiers, observers and drivers, picking up valuable help and advice, and even the opportunity to borrow a boat or other equipment.
Also as not everybody can afford to buy all the equipment necessary and attend a professional water sports school, a club offers a fun and cheap way to get the most out of the sport.
General Safety Advice
Be sure to wear a buoyancy aid and a wetsuit or drysuit.
When beginning never shout 'hit it' to the driver until the rope is taut and the ski tips are up.
Always ski clear of solid obstacles, such as boats, jetties, buoys, rocks etc.
Always throw away the handle on falling.
Try to avoid falling forwards – sit down, or if falling sideways, curl into a ball.
Never wrap the rope around any part of the body and never place any part of the body through the handle.
Never ski in shallow or unknown waters.
You might also like...