An Introduction to Wreck Diving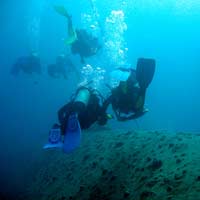 With a matchless wealth of shipping remains from across the ages littering the British coastline, wreck diving offers the underwater explorer the chance to literally immerse themselves in maritime history.
The Wreck Diving Centre
It's hard to believe that not only is there an activity that manages to combine underwater archaeology, maritime history, marine biology and scuba fun, but that Britain is its thriving hub.
So why isn't everyone getting involved in wreck diving? With more ships having sunk around the coastal waters of the British Isles than anywhere else – some estimate around a quarter of a million – there's more than enough to go around.
Underwater Archaeology
Britain may not have the crystal clear waters and rampant technicolor marine life of popular tropical spots, but it makes up for it as an unrivalled source of shipwreck treasures. With coastlines swamped in maritime history – submarines, Bronze Age galleys, merchant ships sunk by German U-boats – more and more divers are taking advantage of the misfortunes of mariners past by exploring these sunken treasures.
Wreck divers find an enormous thrill in swimming around the silent wreckage of a ship that has lain undisturbed for decades, perhaps even centuries. You might discover the ship's old brass bell, or the dramatic gash in the hull where the vessel crashed into the rocks.
Poor visibility – or 'viz' as divers term it – may be a common problem in British waters, but fans of wreck diving actually believe it can add to the experience. There is something mysterious and beautiful about a vast ship that suddenly pierces the underwater gloom and looms majestically above you.
Marine Life
However, wreck diving is more than simply about indulging a grim fascination in the tragic remains of a sea disaster. These sites are far from dead remains as they have been given a new lease of life as a magnet for all manner of marine life. You might find lobsters and crabs in residence within the murk of its shattered portholes, and huge shoals of pouting and Pollack circling around the battered funnel.
The Protection of Wrecks
As sites of potential historical interest, wrecks are all not fair game for the intrepid diver. Under the Protection of Wrecks Act 1973, the government restrict activities around certain wreck site of historical, artistic or archaeological significance.
You are also not permitted to dive inside any ship wreckage in British waters that is restricted under the Military Remains Act 1986, or explore any of the 48 protected war grave wrecks.
Divers must therefore check the history of a shipwreck before taking the plunge.
Wreck Penetration Diving
Wreck diving is not suitable for the inexperienced diver because of the many associated risks. The most dangerous of these is in exploring the inside of a wreck, an activity known as 'wreck penetration diving'.
This is an advanced skill that requires special training, equipment and planning. Every year divers lose their lives from failing to heed warnings and prepare themselves for an activity fraught with dangers.
For instance, the silting of a wreck that takes place very quickly after her sinking makes it very dangerous to enter a wreck without first ensuring a fail-safe means of return to a clear exit point. Also the visibility inside a wreck is often so poor that the powerful torches that divers carry can have no effect.
Wreck Diving Course
For a practical introduction to wreck diving, the diver training organisation Padi offer a special course for experienced divers. In addition to four instructional dives, the course teaches divers how to take care to not damage either the wreck or the marine life that lives in, on and around it.
You might also like...