Choosing the Right Aerodynamic Swimwear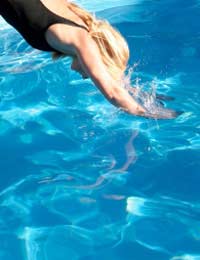 You may not wear much clothing in the pool, but choosing the little gear you do wear carefully can have a significant impact on the quality of your swimming sessions.
Swimming Costumes
If you are choosing a swimsuit for the swimming baths rather than the beach then fit and comfort should take a higher priority over style and garishness. As you will likely be spending a lot of time in the water involved in strenuous movement you will feel the benefit of a swimsuit that is tight, but offers total freedom of movement.
For a perfect fit, the torso of the swimsuit should lie completely flat on the body, with the straps lay comfortably on the shoulders and the bust providing a sufficient amount of coverage without flattening the breasts completely.
Indications that the swimsuit is too tight are when there is stretching at the neck or leg openings, and when the elastic of the shoulder straps or leg openings cut into the skin. Whereas wrinkles at the seams and elastic straps that pucker are classic signs that the suit is too loose.
Good Quality Fabric
Style might not be so important in the pool but that doesn't mean cheap swimwear will do, as quality of fabric is important.
If you are a regular swimmer you will no doubt have noticed that swimsuits have a tendency to fade and lose their shape as a result of the chlorine in the water. Manufacturers like Speedo, Zoggs and Maru now offer advanced swimwear ranges made from chlorine-resistant fabrics that are optimised to hold the body whilst offering total freedom of movement.
Although more expensive, designs such as Speedo Endurance and Zoggs CR25 can last significantly longer than regular swimwear if well looked after.
After each swim you should wash your kit through thoroughly with cold water to get off any chlorine. Experts advise not to use the swimsuit driers now installed in many changing rooms, as these weaken the fabric.
Men's Swimwear
For aerodynamic swimwear, the teeny swimming trunks sometimes known as 'speedos' are the men's classic. However, the more coy male swimmer is often reluctant to opt for such minimal coverage. Fortunately, swift movement through the water doesn't have come at the expense of revealing your prized assets. Aqua-shorts are now available that occupy the happy middle ground between swimming briefs and those baggy shorts that drag you backwards.
Fastest Swimsuits
For the ultimate in swimwear aerodynamics, men and woman with money to burn can splash out on a Speedo Racer Suit, billed as the fastest swimsuit in the world.
It achieves its true magnificence in the water from being made out of an ultra-lightweight fabric that has been 'welded' for a seam-free surface. A hydro form compression system acts like a corset to grip the body in an aerodynamic shape.
Having played a part in numerous record-breaking swims, it has clearly been designed with the most serious and competitive swimmers in mind. Casuals swimmers should merely stand back in awe. Wearing 'speedos' may be embarrassing for some but it would be nothing compared to turning up to your local baths in a neck and ankle Racer Suit only then to chug slowly up and down the lane.
Swimming Headwear
If you swim regularly then a swim cap is a worthwhile investment. Contrary to popular thought, headwear is not designed simply to keep your hair dry (which it doesn't anyway) but to make your more streamlined, retain body heat, and keep your hair off your face.
Swimming headwear can also protect your hair and scalp from the damage caused by regular exposure to chlorine.
You might also like...