Safe Ice Swimming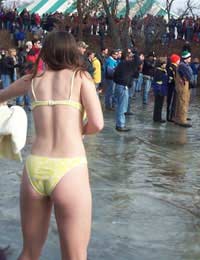 The idea of swimming in freezing water may seem foolish to most but many Scandinavians and Russians swear by it, and declare that not only is it safe but healthy too.
The Finnish name Avantouinto literally means 'ice hole swimming' and refers to swimming in an opening in a frozen lake or sea. Ice swimmers either visit an official ice hole – there are believed to be around 170 in Finland alone – or simply cut out their own.
There are no official rules for how long swimmers should spend in the water - however it is typically either a quick plunge or a few minutes swim and not an hour's gentle bathing.
Benefits of Ice Swimming
Diehard ice swimmers swear their activity improves body circulation and mood, makes them feel fresh all day, relieves symptoms of arthritis and even helps build resistance to diseases related to the cold. It is also said to have a strong anti-depressant effect. For this rich trove of benefits a single ten second plunge is not enough, instead one must make ice swimming a regular pastime, with a visit to a local ice hole at least two to three times a week.
Risks of Ice Swimming
Those with heart conditions might be particularly susceptible to the ice cold water and the shock this brings and are advised to check first with their doctor. Similarly those with any kind of serious ailments are wise to consult a GP before descending into the icy depths.
Ice swimmers should take extra care in avoiding getting lost under the edge of the ice as this is incredibly dangerous.
Safe Temperatures
It is normal to have a sauna in accessible distance from an ice hole and for swimmers to follow a sweat with a swim, before returning to the sauna. It is safe practise not to rush between the two extremes because it can be quite traumatising to the body to dip into freezing water directly from the heat - a heat change of around 80 to 100 degrees. The sauna causes the blood to rise to the surface of one's body while the ice swim causes the blood to rush towards the heart and the inside of the body.
Not everybody needs the sanctity of the sauna however, the hardiest ice swimmers simply strip off and leap in. There are also a great many who just need to get ready in some nearby heated changing rooms first. Most ice holes roll out a special heated carpet between the changing rooms and the water. This serves to make the journey not only more agreeable but safe too, because the icy walkway would otherwise be rather slippy.
Safe Ice Swimming
First time ice swimmers are best to visit an official ice hole, this way all their apprehension is focused on the icy swim and not the maintenance and safety features of the site itself.
For those that want to experience the whole ritual by cutting their own hole too, then they should first find an ice auger or saw to cut out a hole large enough to swim in and then gather some friends together to share the experience with, and help if anything untoward happens.
A typical maintained ice hole has a ladder going down into the water to aid safe entry and exit; if such a sturdy ladder is not available for the self-made hole then a rope ladder could be used instead.
You might also like...